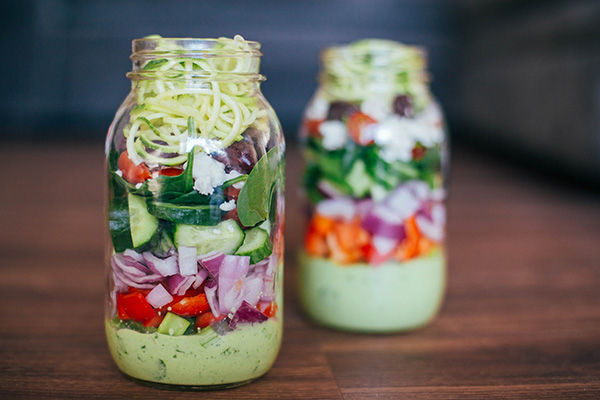 Mason jar salads are an easy and great way to not only meal prep but eat on the go. This recipe pairs zoodles and a healthy fat-avocado! The taste is full of flavor and I know you will love it!.
Ingredients
½ medium ripe avocado, cut into cubes
¼ cup reduced-fat (2%) plain yogurt
1 clove garlic, finely chopped
1 shallot, finely chopped (or 2 Tbsp. red onion)
2 Tbsp. fresh lemon juice
2 Tbsp. chopped fresh parsley
½ cup sliced celery
½ cup thinly sliced red bell peppers
½ cup thinly sliced red onion
½ cup sliced cucumber
6 cups shredded raw spinach
½ cup halved cherry tomatoes
¼ cup crumbled feta cheese
¼ cup pitted Kalamata olives
2 cups medium zucchini, spiralized (approx. 2 zucchini)
Instructions
Place avocado, yogurt, garlic, shallot, lemon juice, and parsley in a blender; cover. Blend until smooth. Evenly divide dressing between 4 one-quart Mason jars. Set aside.

Evenly layer celery, bell peppers, onion, cucumber, spinach, tomatoes, cheese, olives, and zucchini on top of dressing in jars.

Serve immediately or cover and refrigerate for up to 3 days. Shake before serving.