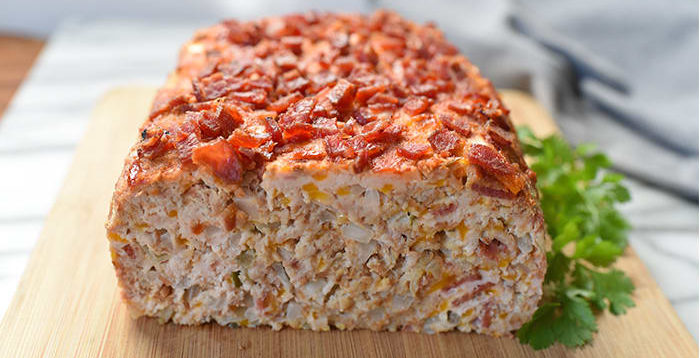 Your family is going to love this twist on meatloaf! It's full of flavor and is promised to be a weekly favorite!
Ingredients
4 slices low-sodium sprouted whole-grain bread torn into large pieces
½ cup unsweetened almond milk
1½ lbs. raw 93% lean ground turkey
8 slices turkey bacon cooked, chopped, divided use
1 cup shredded cheddar cheese
¼ cup dill pickle relish
1 large egg
1 clove garlic finely chopped
1 medium onion chopped
¼ cup all-natural ketchup
Instructions
Preheat oven to 350° F.
Place bread in food processor; pulse for 10 to 20 seconds, or until bread turns into coarse bread crumbs.
Combine bread and almond milk in a large bowl. Set aside for 5 minutes.
Add turkey, ¾ of turkey bacon, cheese, pickle relish, egg, garlic, and onion to bread mixture; mix well with clean hands (or a rubber spatula).
Place turkey mixture in loaf pan. Spread ketchup evenly over meatloaf. Sprinkle evenly with remaining turkey bacon.
Bake for 50 to 60 minutes or until internal temperature reaches 160º F, and meatloaf is cooked through.