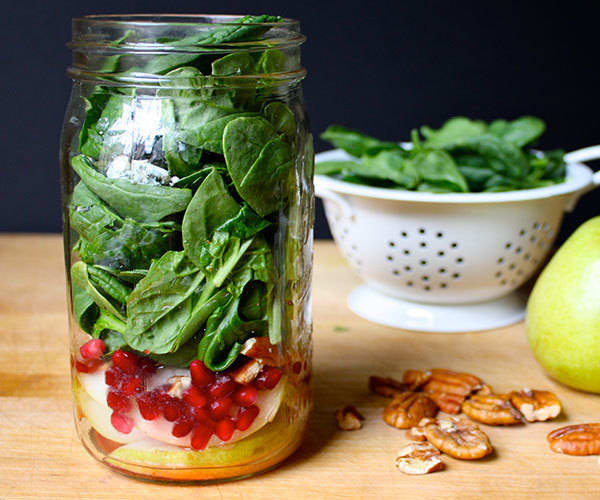 This salad is a great mixture of sweet and savory flavors that wow your taste buds right away!
Ingredients
4 cups water
1/2 tsp. sea salt or Himalayan salt, divided use
2 medium pears, cored, thinly sliced
1/2 cup sherry wine vinegar
4 tsp. extra-virgin olive oil
1/4 tsp. ground black pepper
1/2 cup fresh pomegranate seeds
3 Tbsp. toasted pecan pieces
8 cups baby spinach
2 Tbsp. crumbled blue cheese (or feta cheese
Instructions
Combine water and 1/4 tsp. salt in a medium bowl; mix to dissolve salt.
Submerge pear slices in water. Let sit for 5 minutes; drain water. Set aside.
While pear is sitting, combine vinegar, oil, remaining 1/4 tsp. salt, and pepper in a small bowl; whisk to blend.
Evenly layer pears, pomegranate, pecans, spinach, and blue cheese on top of dressing in jars.
Serve immediately or cover and refrigerate for up to 2 days. Shake before serving.