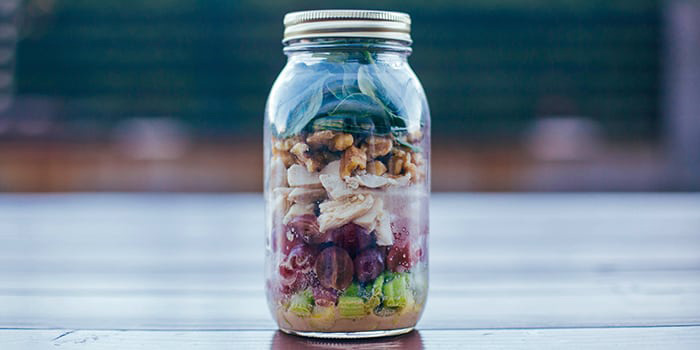 This chicken and spinach salad is topped with walnuts and sweet grapes. And, since it's in a Mason jar it can go anywhere.
Ingredients
½ cup red wine vinegar
4 tsp. olive oil
2 Tbsp. country-style Dijon mustard
2 Tbsp. finely chopped tarragon
1 cup thinly sliced celery
8 oz. cooked chicken breast boneless, skinless, cut into ½-inch cubes
2 cups red grapes
4 cups raw spinach
¼ cup raw walnut halves
Instructions
Combine vinegar, oil, mustard, and tarragon in a small bowl; whisk to blend. Evenly divide dressing between 4 half-pint Mason jars. Set aside.

Evenly layer celery, chicken, grapes, spinach, and walnuts on top of dressing in jars.

Serve immediately or cover and refrigerate for up to 3 days. Shake before serving.